The Glen Echoes CD
The Glen Echoes released our first CD in late 2005. The CD includes a mix of our songs from Barbershop to Doo-Wop. We had a great time working in the recording studio and hand selected the 12 songs.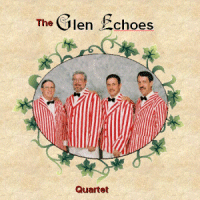 Song List
Bowery Medley
Oh How I Miss You / When I Lost You Medley
Darkness on the Delta
Sweet, Sweet Roses Of Morn
A Nightingale Sang In Berkeley Square
My Wild Irish Rose
Veni, Veni Emmanuel
Sweet Hour Of Prayer
Under The Boardwalk
In The Still Of The Night
For The Longest Time
Bye Bye Blues
Long term we hope to be able to include more sound clips, but each clip requires legal clearance and negociations with the copyright holders, so for now we have included a full recording of 'My Wild Irish Rose' in MP3 format. Simply click the song title 'My Wild Irish Rose'
We want to specially thank Don Gray for his permission to include his arrangement of My Wild Irish Rose on the CD and here on our web site.
The CD is available $15 plus $3.00 shipping and handling. To pay by money order or personal check, email Richard Cook for the mailing address or phone us for on phone credit card orders